(A Good Machine x Shiloh Deluxe)
For Sale - $1500 - Bring OFFERS
(Deposit has been made on a breeding to VS Flatline for 2016 - May be available for transfer)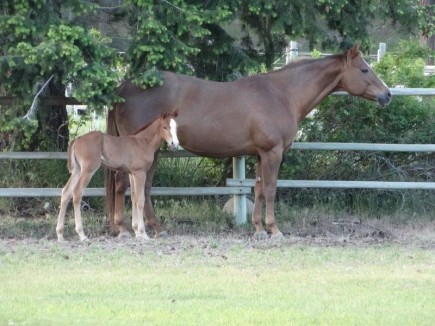 Would consider long or short term breeding lease.  Should be noted that Sugar is an EXCEPTIONAL NURSE MARE.  Spring 2014 she was Open, under lights for breeding - accepted an orphan foal with domperidone treatment - and successfully AI'd with shipped frozen semen.  Good breeding information available for this mare as well.
Unshown at breed shows due to injury.  We purchased Sugar for our daughter Kaitlyn for Senior 4-H and we just couldn't be more thrilled with this mare. She worked her heart out for Kaitlyn and took everything in her stride - whether at home or at a horse show.
She is now broodmare sound and we love our first foal out of her, an intended 4-H project for Kaitlyn.  However, Sugar was so loved by our boarder Thea that her foal was sold in utero and thus Vanna (x Perpetual Tradition) spent 2+ years here before being sold to the Island. 
Sugar foaled a beautiful chestnut filly by VS Code Red.   She's a lovely filly, classy slow-legged mover and will be fore sale this spring. 
We can't leave Sugar's page without mentioning that Sugar sometimes doesn't play well with others - plainly just a people horse all the way.  And apparently, the best kind of nurse mare we could hope for.  She was in the barn when our foal, Rocky, was born.  She nickered baby talk at him whenever she could.  Rocky's dam passed away when he was just 2 days old - so we figured, what the heck!  And we induced lactation in Sugar with domperidone.  The result was an astounding success and she is worth her weight in gold.  You would never know that wasn't HER baby!
Sugar's sire is well known in the industry.  A Good Machine (Stallion Record) and 1997 World Championship Video.  Sugar's dam was a very good producer with many performing foals.  The best performer is a FULL sister to Sugar - see Get of Dam and Get of Granddam records.