2013 Arabo Friesian Filly (Full sister to L Havana)
For Sale ~ SOLD - Bring Offers!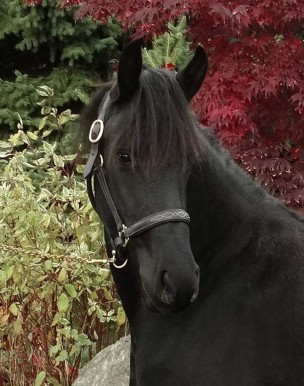 Madde is one of only a few 91% Friesian / 9% Arabian foals in all of North America.  Her sire - YK Dark Otto - 2004 EAFS Stalion of 18.25% Arab Blood - 1.61 m tall.  Sired by YK Dark Danilo (YK339/Shiva - EAFS) Dam:  Catootje (Star KFPS)
Madde dam is a purebred Friesian mare Tanya v.L (Laes x Vijmkje (Ster  Mare))
Madde is an exceptional Friesian X filly that will be very competitive in the dressage ring. She shows remarkable talent at all gaits. Madde has been bred to be a show horse displaying modern sport Friesian dressage-type characteristics in bone structure, muscle structure and the golden temperament Friesians are known for. Madde handles herself like an aged horse. She has proven to have an excellent show temperament placing 2nd in a deeply competitive halter class of All Ages Mares at the Canadian National Andalusian Lusitano Show in July, 2014. She was literally shown out of pasture, bathed & blanketed, trailered and stalled at the show. The judge commented on this filly's exceptional conformation & movement, placing her 2nd behind a returning National Champion mare. Madde shows a willingness to please and is very responsive to training. She has always displayed very good boundaries and has grown up in a pasture / small herd situation to give her developing body the turnout needed to grow strong. She has been supported on a highly specific nutritional program and has had hoof care & deworming since a young foal. This filly will mature to 16.2+ hh, feathers and natural heavy Friesian mane & tail. Her conformation is truly excellent with a great stifle & hock! Clean, blemish free legs!
She will work easily long and low with a natural lift and floaty movement. She is registered with the Canadian Friesian Horse Association and is 91% pure Friesian. Her breeding is the result of an exceptional Friesian breeding program imported from Germany with the goal of maintaining the strong Friesian characteristics while improving their athletic ability and endurance. We welcome inquiries on this rare filly.