2014 APHA SPB Bay Roan Colt
Not For Sale - Just one of the best minded horses we've had yet!
by Redfords Blue Chip out of Fancy Me Grand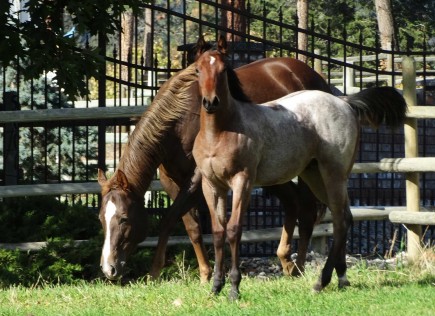 Our friend Diane leased us this sweetheart of a mare and we couldn't have been more sorry to have to euthanize her just two days after her foal was born.  With our vets help, we tried so hard to pull this mare through - it wasn't meant to be.  Paige passed away, most likely from complications due to a uterine tear, just two days after Rocky was born.  
That was it - time to put the gloves on and get down to business.  Hungry baby....  He very quickly latched on to a bottle.  We started off with our vets suggestion, a corona bottle and lambs nipple - it worked.  Wasn't long though and we were going through two bottles or more a feeding so we had to switch to big pop bottles.  What we learned about Rocky is that he liked to reach UNDER our arm from behind, bunting at your elbow and upper arm like he would on a mare.  You had to "be in position" and he'd settle right in for feeding!
Even luckier, when we finally introduced him to the nurse mare, he was content to both nurse on the mare AND bottle feed - rare, so we've heard!  Nothing quite squeezes your heart and brings out the "awe" in life when feeding a baby animal with a bottle.  A thousand photos we are sure!  We then started to make him nurse from the mare first, then finish a bottle so that we could encourage lactation in the nurse mare.  It was 2 weeks, almost full-time the first week then part-time the second week when he could live with the nurse mare - from death of dam to completely on his own with a nurse mare.  

The challenge for us was in getting our nurse mare to produce enough milk! More about that on the Nurse Mare page.