Stormin Whoopee was our first broodmare and we had 5 beautiful foals from her.
Storm had Open & Amateur halter points and was Reserve Canadian National Halter Champion during her show career.
For us, Storm was "our first" for almost everything as we ventured into the breeding world.  Our first foal born at 5 Pine Ranch - Easter Sunday.  We named her Diva.  The Easter Bunny led a trail of goodies right to the stall door and two very excited little kids got to see their first filly.  But darned if that mare didn't drip milk for 10 days before foaling so that was our "first" IGG & Plasma Transfusion not to mention our "first" long weekend, stay overnight VET bill.  LOL  And that was the first of many such memories.  This first foal was our first filly.  And that filly and I went to our "first" AQHA show and won "first" place.
The next foal was dead.  I woke up every 2 hours for a week, watching our little 4" x 4" monitor waiting for her to foal.  Can you believe, I had a nap on a Sunday afternoon - Storm foaled and struggled to deliver the big colt.  He was born still in the sack and lifeless - full term :(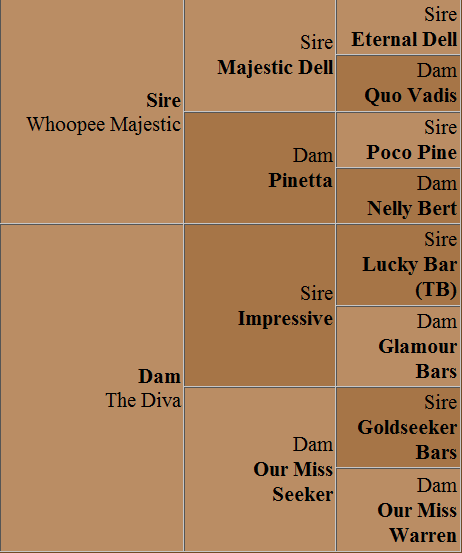 The coming year, we go technical with the breeder alert monitor and I tried to convince hubby that we could rent out the monitor to help pay for it.  Well, no one rented it but it paid for itself when we saw our beautiful Nitro being born.  And he's still with us now, a wonderful tribute to his dam.Storm Pedigree
Next came along Flame - she was all Princess, a real people horse and a nightmare in the stall.  She just did NOT want to hear or see anything beside her in the barn or she'd kick the walls down.  She was affectionaly re-named Princess of Darkness.  Sadly, she was injured in an unrelated incident as a 2 year old and put down.
Tritan was the next colt born and he was a HUNK.  He sold to a roping trainer who still owns him - and loves him to this day.  Reminds me I'm going to have to go visit and see how he's grown up, he was such a great baby.
Last was Duff.  We took a step sideways from the QH breeding and bred Storm to YK Dark Otto, producing Stormin Magic McDuff who is now owned by our dearest friends, Wayne & Julie Evans.
Storm was the "first" mare that I learned to artificially inseminate and her last 2 foals were our success.
She sadly injured her stifle when she was evacuated during a wildfire close to our home and after her last foal was born, she struggled.  I had hoped that she would simply grace our pastures as a grandma horse for many years but sadly, the progression of arthritis in her stifle was too great and she has a special spot on our farm.