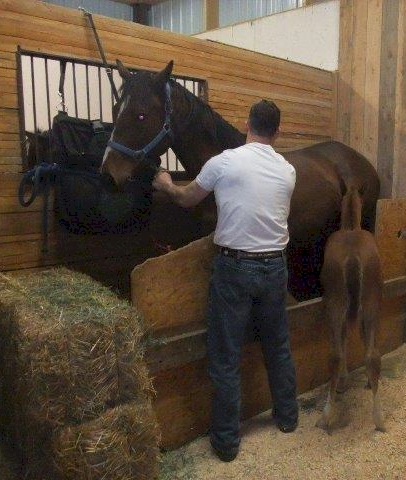 We have published this page to share our experience and offer a service should someone be looking to successfully match a nurse mare & orphan foal. Our experience was a successful one though not without difficulty! Our success was largely due to the coaching of some very fine people in our area. Many thanks to Dr. Sheila McDonald, DVM, Kelly MacMillan, Dr. Alex Wales, DVM, Bennett Farm & most especially Bobbi and her beautiful mare, Ruby - our first orphan foal/nurse mare match was very successful. Our second one easier as a result of the things we learned the first time!
Check our Rocky's video which shows our second successful experience, We used the domperidone protocol to induce lactation in this mare - and successfully got her in foal at the same time!
This great article on America's Horse discusses how stimulating the mare will help produce hormones to influence her acceptance of an orphan. And this article from The Horse discusses drug protocols for inducing lactation.
Diego was orphaned at just 3 weeks of age. We did not want a bottle or bucket fed baby! Luckily, we found Ruby who had a foal at her side old enough to be weaned. She was at our farm within hours of Diego's dam dying. We had goats milk on hand and an unwilling, hungry baby at that point.
Overall, there is a high percentage of success with systems such as what we show below. It's important to be prepared for the mare's behaviour when first meeting the new foal and also to be prepared for the length of time it might take to get the mare/foal "together". Our attempt took 6 days and the people who guided us through this cautioned that 3 days is the minimum and it has often been longer.
DAY 1
We were unprepared for Ruby's (nurse mare) strong objections to her new baby in spite of the warnings. With the help of some sedation, we were able to keep Ruby quiet enough for Diego to nurse the first time. Ruby was both kicking and trying to bite the baby so our first 24 hours with this setup was babysitting and a little nerve-wracking.
I really want to stress here that from what we have learned, it is more common than not that the nurse mare outright rejects the foal in the beginning. It is important to be prepared for this. We held Ruby's head and we wrapped her hind legs so thatany kicking she did, we could atleast protect her legs. We used a sedative as needed and our overall goal was to keep that mare as happy as possible. Baby Diego was HUNGRY by the time we had this set-up in place and he had no problems finding the milk.
The Plywood Chute was on loan from a local Thoroughbred Farm and it works like a charm. We backed Ruby into the chute, placing straw bales in front of her to block the foal from getting in. There is a "window" cut for the baby to get to the mare to nurse that keeps the baby safe from a kicking mare. The beauty of this chute is the safety of the foal. We did leave Ruby in this chute for the first 24 hours, placing hay & water in front of her to keep her happy. All in all, the nursings went well with some sedation and I spent the night in the barn to help the foal nurse every few hours.
DAY 2
This seemingly blissful picture was fairly shortlived. We took Ruby out for a break in the pasture on Day 2 and when we placed her back into the chute, she was miserable. She spent the next 30 minutes convincing us she was completely DONE with the chute set-up and was climbing out at every opportunity. She was still strongly objecting to the foal and although the biting attempts were less, the kicking continued. It was pretty discouraging and just sheer exhaustion makes this feel hopeless.
DAY 3
This was a suggestion from Kelly which made a miserable situation liveable again. The foal was kept in a corner of the stall blocked off by the fence panel. Ruby was only place in the plywood chute when it was time to nurse. The kicking continued and if the foal got out of the corner, she would try to bite although with less intensity. However, we no longer had to hold Ruby - she was content enough to allow the foal to nurse as long as the foal asked politely and went slowly. She never argued when we backed her into the chute, she would stand without being tied and overall was much happier with the situation.
One concern we started to develop was the intense bond Diego was developing with me. He was associating me with nursing since I would let him out. There were other times where I kept him company when we put Ruby out to pasture for a couple of hours break. It was hard not to resist wanting to cuddle the little guy and we were also treating him with ulcer medication as a preventive measure......but I had to work hard to resist this bond a bit as we definitely didn't want a horse that had no boundaries later in life.
DAY 4 & 5
We hit a complication on Day 4 when another mare in the barn foaled. The smell & sight of the new foal made Ruby quite restless.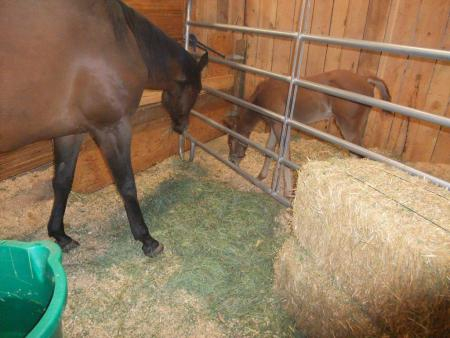 We took her out to pasture in the morning and she screamed & hollered towards the barn, the orphan foal answering in return. We thought this was the moment of "bonding" we were waiting for so we haltered Ruby and brought her back into the barn. She went straight to the stall of the new mare & foal and proceeded to nicker at the newborn. Aaaagghhh. That was an upset, thinking it was the orphan she was calling to and instead she just wanted to steal another mare's newborn! We finally put up a curtain so that Ruby couldn't see the newborn foal and that settled the situation. We tried to rub amniotic fluid from the other mare onto Diego hoping it would trigger something in Ruby - it did not! We couldn't wash it off Diego fast enough!
At this point, another swift kick in the butt from the pro's helping us through this and our reminder to ourselves why we felt Diego being raised on a mare instead of a bottle or bucket helped us dig deep and keep going.
For 2 more days, Ruby & Diego could share hay through the fence panel, he could nurse when she was in the chute, she'd mostly stopped kicking but if we let him close to her head, she'd pin her ears and try to bite.
What we didn't realize was that this was really really great progress and although it wasn't perfect, we were closer to this working than we realized. The mare wasn't trying to "eat" the foal anymore, we didn't have to hold her in the chute or sedate her for nursing, she was content to share hay behind the fence panel - those were all really significant signs. We just needed to trust the situation a little more so Kelly encouraged us to take some risk - it was time to move the pair outside.
DAY 6
On Day 6, we moved the pair outside holding the mare while baby Diego explored his new corral. As a horse arrived across the fence to greet the newcomers Ruby got very restless & agitated so we held our breath and let her go. We hoped we weren't dealing with the disaster of this mare mowing over the baby. Instead, we saw the protective instinct in Ruby come out and she began herding Diego around the corral. This was a huge significant step in the right direction.
This pair lived in the corral outside for the next 24 hours and we did babysit the nursing a few times. We almost gave up again when Ruby began kicking but we got after her a bit to stand still and the baby was able to nurse. So even though we still needed to supervise this a bit, they were living well together and we knew it was pretty unlikely Ruby was going to hurt him. Diego sure had to learn to ask politely to nurse.....sometimes she refused him but most times not. He learned not to nurse with his butt towards her head as for some reason, this would still earn him a nip. But they were largely unattended and the more traffic past the corral, the more protective Ruby became.
DAY 7
Today was tears of joy and tears of sorrow. Just a week earlier Diego had been running in this pasture with his dam. He'd grown up a lot in that short time and been rejected by his nurse mare more than once. He had a few dings & wounds to show for it but had lost very little weight. We removed his halter and were determined to put some space between him and people so that the bond with the new mare would continue to develop. It did. Although there were odd times when Ruby would seem annoyed with him trying to nurse, for the most part they were quite connected. She certainly looked out for him and hollered if he wasn't close. It's not the same kind of bond shared between a mare & her own foal, but it was absolutely darned good and a thousand percent better than a bottle or bucket. We realized we could have made the transition to an outside corral sooner than we did but it was hard to trust a situation we were so unfamiliar with.
In Loving Memory of Star, Diego's Dam
A Few Extra Notes:
Don't underestimate the potential for an ulcer in your orphan foal. In hindsight, we should have kept Diego on ulcer medication longer than a week. The stress of the situation sure took it's toll and when that ulcer kicked up again, he was a very sick colt. Luckily we were able to treat the ulcer again and he's just fine now.
Don't underestimate the possibility of some major strong objections from your nurse mare and be prepared for everyone's protection. Acepromazine was the sedative we used and it worked well. We used it quite a bit in the first 24 hours - some mares you may need to keep this up longer. Those first days of strong, even violent objections don't make the situation impossible! In most cases, with enough patience this WILL WORK!
Keeping the mare happy is the number one priority. We accomplished this by giving her the most room in the stall and the corner for the baby was just big enough for him to lay down safely. Beyond that, a happy mare is a happy nursing baby.
Don't be afraid to take some risks. We recognized that we played it safe longer than we needed to and for some reason, we expected to see a real Momma Bond develop. It didn't. It was better than just companionship but it was not a true "momma bond" and you'll be waiting for a long time if this is your goal.
Mix up the situation if you seem to have not made any progress - we could have moved that mare & foal outside sooner, we just didn't realize it.
Don't give up too soon - the pro's that helped us through this report situations of up to 2 weeks before the mare accepted the foal. This is WAY BETTER than a bottle or bucket fed baby.
Kelly has induced lactation in non-parturient mares with 100% success. If you don't have a milking mare, you can create one within 7 days using this protocol.
http://www.ivis.org/proceedings/aaepresort/2006/Daels1.pdf
http://www.ivis.org/proceedings/aaep/2002/910102000068.PDF
http://www.thehorse.com/ViewArticle.aspx?ID=13103
Membership to view these articles is FREE.
We Welcome Visitors Anytime!! Contact Us at This email address is being protected from spambots. You need JavaScript enabled to view it.
5070 MacKinnon Road
Peachland, BC V0H 1X2
Call: 250-767-1972 or 250-215-7463